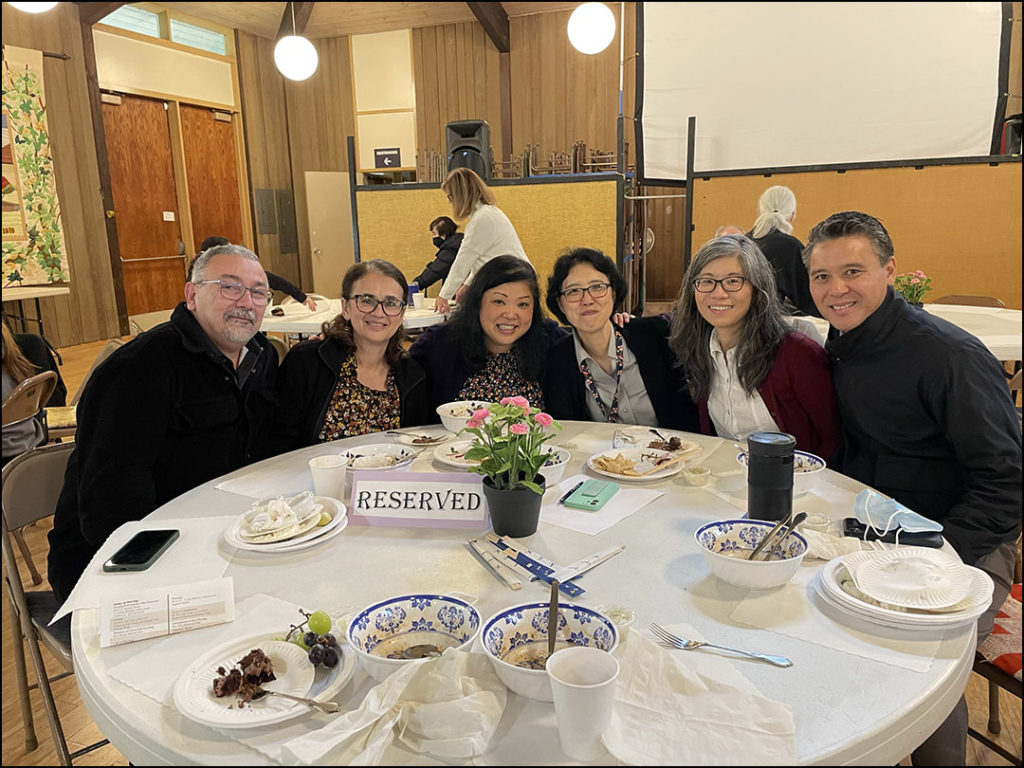 Gratitude & Stewardship: Together for Joy!
By the Rev. Karen Yokota Love
Pumpkin spice lattes, turkey and gratitude. The eleventh month is now upon us, drawing us closer to the end of 2023. It is a transition month, a month between autumn and winter, when the leaves get raked, and the crops have been harvested. We "fall back" from Daylight Savings Time and revert to Standard Time. It is Election Month and it's a month of many community gatherings. Most of us prepare for rain, snow and winter storms. November is also a month that reminds us to be grateful which is so fundamental to our faith and Christian stewardship.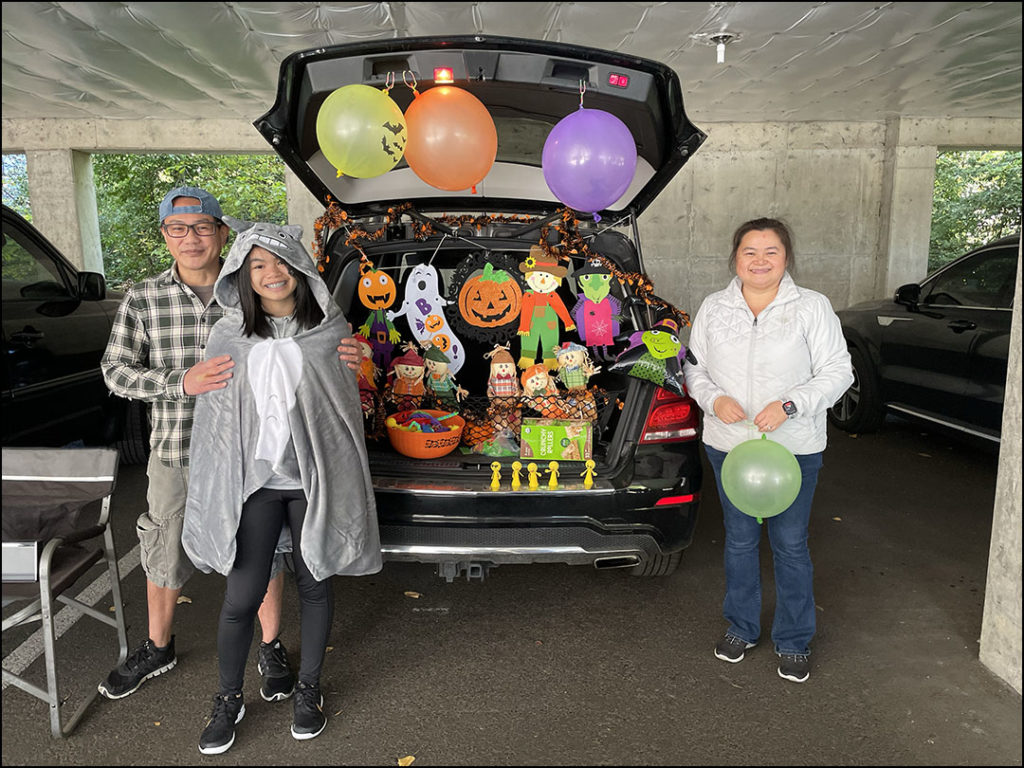 I'm grateful for so much. I'm grateful for the recent Pastor's Appreciation Lunch which was kindly dreamt up from Chef Joshua Santos. Thank you and thank you to Edwin Santos and the entire SPRC Team. What a wonderful celebration. I loved the homemade tortilla soup with onigiri! I'm also grateful for the Harvest Festival and the Trunk-or-Treat last month. Thank you to Susan Lee and Kim Furugori who came out to prepare such a wonderful event and did an abundant amount of preparation work. I also loved the costumes! What joy!
This month, we express our gratitude for our saints, the witnesses to the Gospel who challenged us to find our own path to holiness. We continue to be grateful for the lives of all who have gone before us to meet the Lord, especially those we know and hold dear … our Issei, Nisei and some Sansei. We thank our veterans who have offered their lives on our behalf. And of course, in the United States, there is Thanksgiving Day, a holiday that is all about gratitude.
The month of November is an ideal time of the year to focus our spiritual lives more intently on being grateful for the blessings of our God. I challenge you to:
Pray with gratitude.
Set aside some time for prayer each day. If you are new to the habit of daily prayer, find 10 minutes in your daily schedule. Pray as a family as well. And begin with a prayer of gratitude.
Put gratitude into action.
Do something at Blaine Memorial UMC or in your neighborhood to share your material blessings with those who might otherwise go hungry. Contribute to the Rainier Valley Food Bank or help deliver food to Tent City 3 or to the Kimball Elementary School families.
Make gratitude a habit.
Find ways to thank others for their generosity and kindness toward you every day. The late spiritual writer and theologian, Thomas Merton, once wrote that "to be grateful is to recognize the love of God in everything."
Let us use the month of November as an opportunity to grow in stewardship which, simply put, means living a life of gratitude. And as the psalmist encourages us to do: "O give thanks to the Lord for he is good; for his love endures forever" (Psalm 107:1).
It's for this reason that our journey begins with stewardship. Keeping this moment in mind, the theme for the 2024 Stewardship Campaign is Together for Joy.
Psalm 98 tells us to "Sing to God a new song, for God has done marvelous things. Let the floods clap their hands; let the hills sing together for joy." Staying together through the delights and struggles of life — being "together for joy" — has never been more important. And while change brings financial challenges in its wake, it also brings fresh opportunities to sing to God a new song, for God has done — and will do — marvelous things.
Stewardship is the generational cornerstone of the Blaine Memorial United Methodist Church community. Without fail, those who grasp and practice the depth and joy of faithful stewardship have almost always learned it, not from a book or seminar, but from our faithful mentors — our beloved Issei and Nisei — who've paved the way for us. Those who've followed them: the Sansei, Yonsei, Gosei, Asian American and a variety of multiracial families that are a part of the Blaine family must continue to uphold their legacy and pave the way for generations to come.
November 5: All Saints Day
We will kick off our stewardship campaign while we celebrate All Saints Day. We will light candles for those who have departed and honor those in our community who have passed during this last year.
November 12: New Music!
We will look at all the ways we have found "new songs" to sing over the last couple of years: hybrid worship, the creative ways in which our Choir adapts with change, ways of continuing to serve the community, serving the vulnerable and isolated, speaking out for justice through education and action and so much more! This is who we are, and who we'll continue to be and become. The church was made for times such as these — not times of ease and tranquility, but times of difficulty and struggle.
November 19: Dedication and Thanksgiving Sunday
We will conclude our Stewardship series, Together for Joy, by looking ahead to what the church will do in the year ahead. I invite you to bring your commitment cards to church and we will bless and consecrate them on Sunday, November 19. This is why all of us, as a community, ask each other to share our treasure and invest in our mission as a church. Now more than ever, your generosity can and will make an enormous difference. In a time of injustice and struggle, we are a community of love and justice. We are and can continue to be a community of gathering, a community of song, of new songs and new ways of singing, new ways of being God's church for God's world, together for joy! What kind of new song are you visioning?
We are all a piece of that final tapestry for generations to come. When we give to others, we get back far more than what we originally gave. As you discern, please know our gratitude for your generosity, your faithfulness and your love. It's your response to God's gracious invitation that will make this next chapter our best one yet. Be the hope for generations to come!
Rev. Karen Yokota Love serves as the Senior Pastor of Blaine Memorial United Methodist Church.
---
Visit the Poinsettia page!
Orders are now open for Poinsettias on the Altar. Read more.
---
The Beacon is Now Available!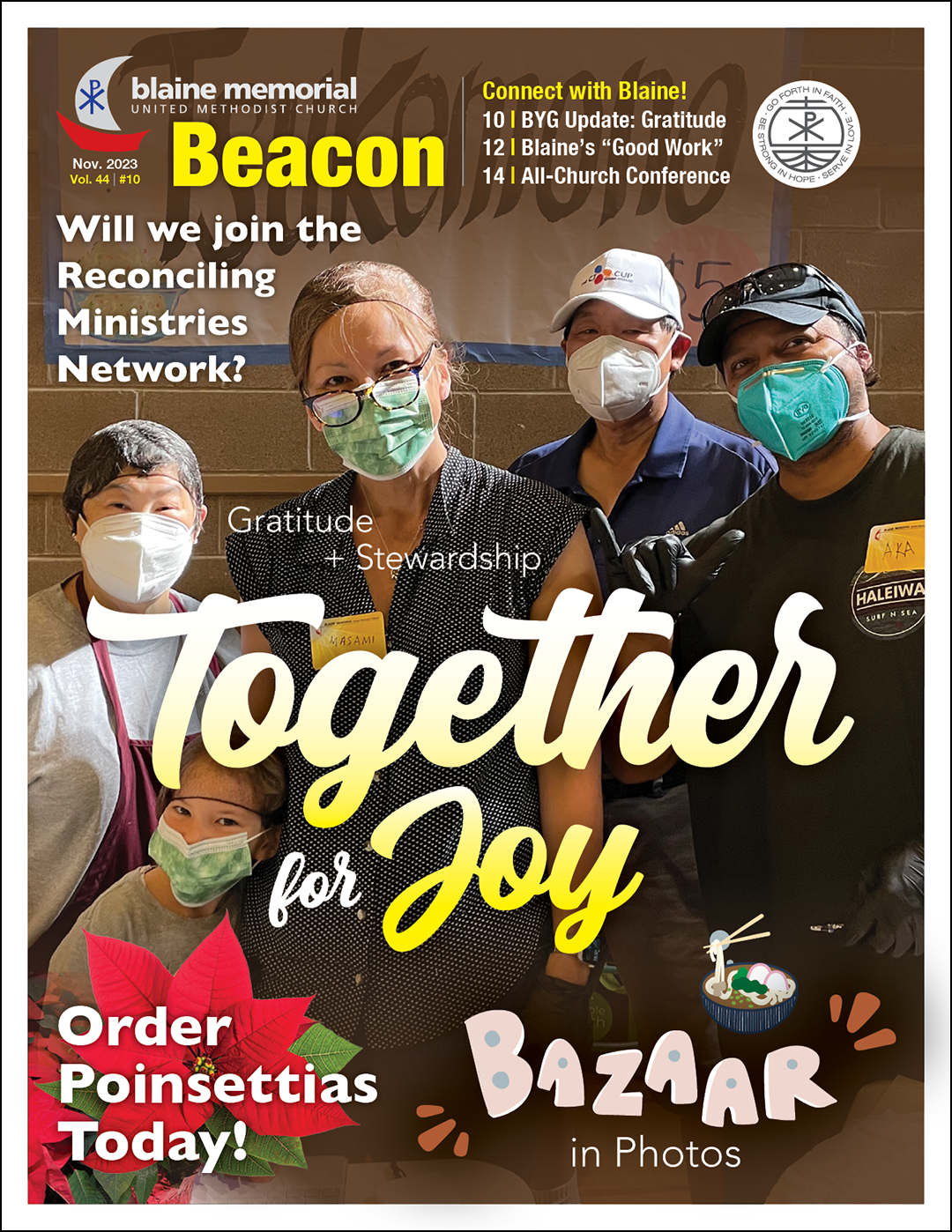 Read the latest issue of The Beacon newsletter, here!
---
November 2023 Calendar
Click on calendar to view the PDF.
Learn More