Ways to Give!
"Every person must bring a gift in proportion to God's blessings upon you." (Deut. 16: 17)
1. ONLINE: Use your Realm sign-in, onrealm.org.
2. MOBILE: Search "Realm Connect" in your app store. Download the free app. Use your Realm sign-in and click GIVING. (For a Realm sign-in, contact the Church Office)
3. TEXT: Text BLAINE to 73256. Click the link you receive and follow the prompts.
4. MAIL: Mail a check to: Blaine Memorial UMC at 3001 24th Ave S. Seattle, WA 98144.
---
Sunday Bulletin for 11/26/2023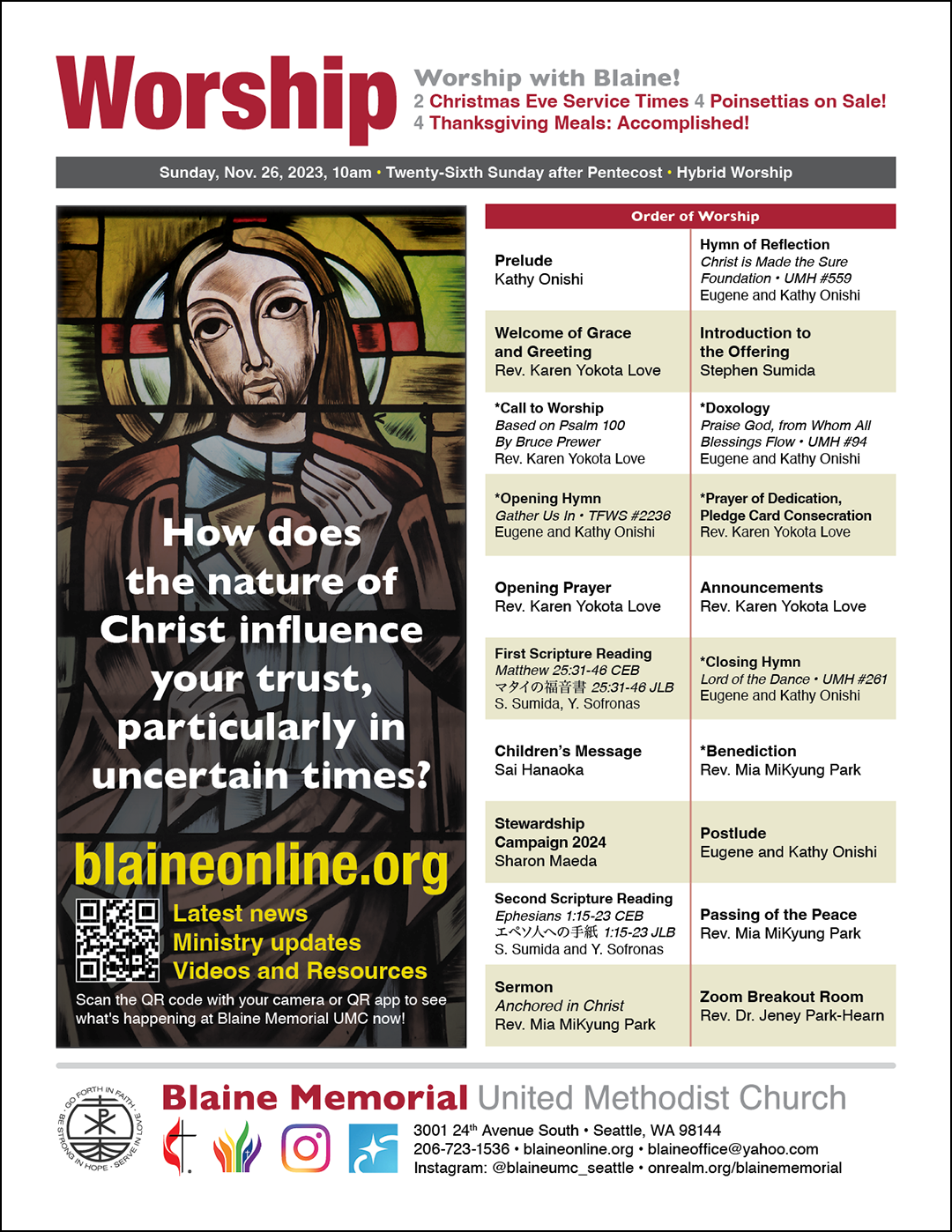 Click image to view Sunday's Bulletin.
---
View Blaine Memorial UMC's Live Stream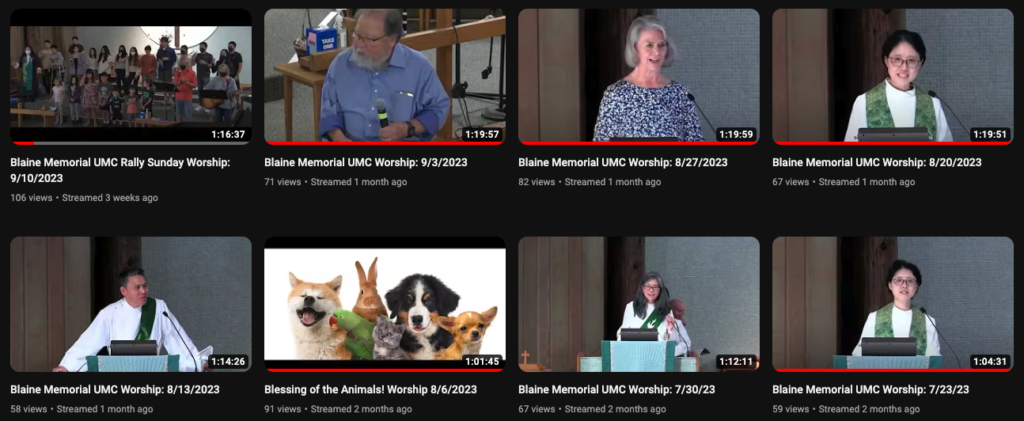 Sunday Worship Service begins at 10 a.m., both in-person and streaming online. Get directions or call us at 206-723-1536. Blaine Memorial United Methodist Church welcomes you!
---
NEW! Blaine UMC's Original Videos!
BYG Suno Dogs Support Maui Relief
Associate Director of the Blaine Youth Group, Kaylee Yokoyama, presents the team's efforts to support Maui through it's contributions of Suno Dog sales at this year's Bazaar. Read more.
---
Download the poinsettias order form!
Orders are now open for Poinsettias on the Altar. Read more.
---
The Beacon is Now Available!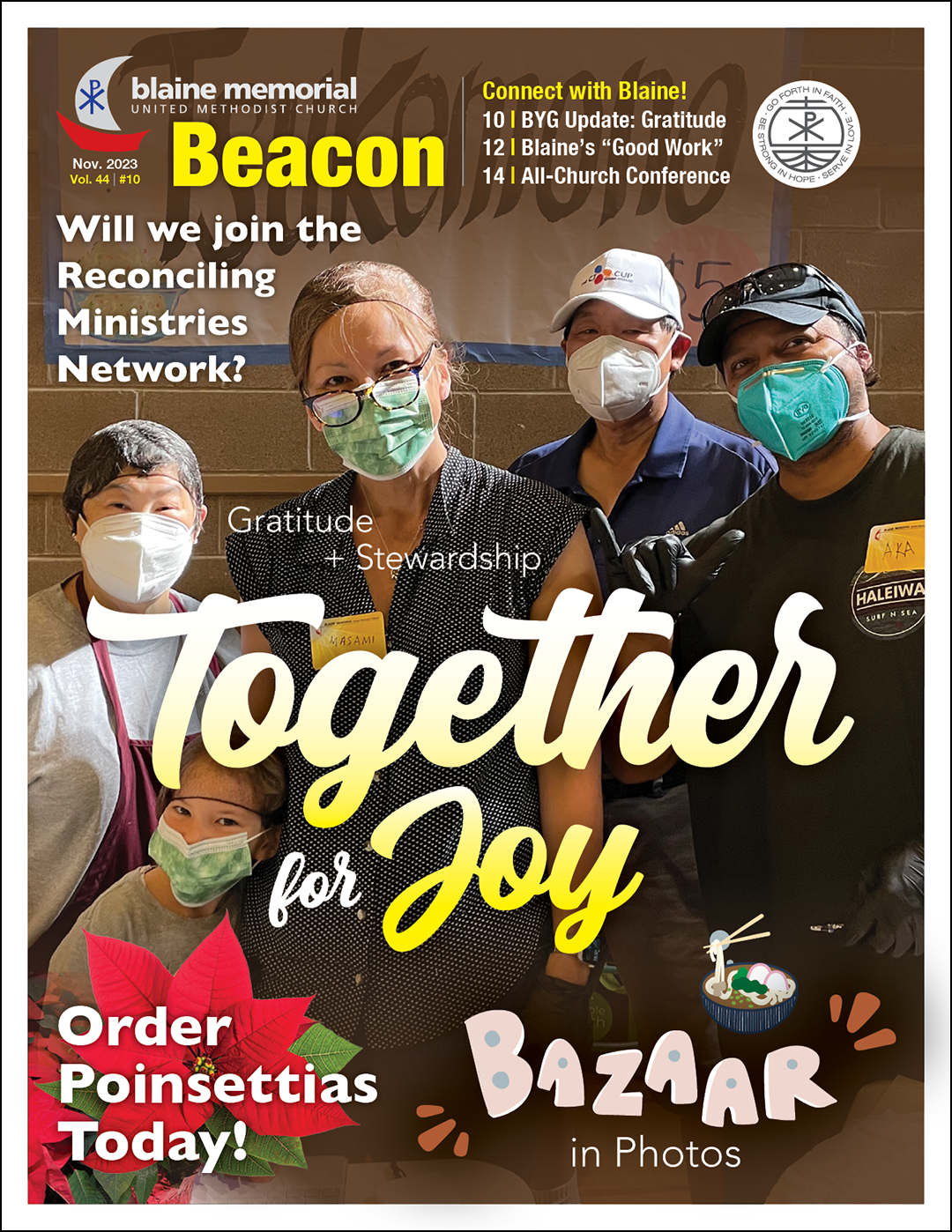 Read the latest issue of The Beacon newsletter, here!
View past issues, here.
---
Upcoming Events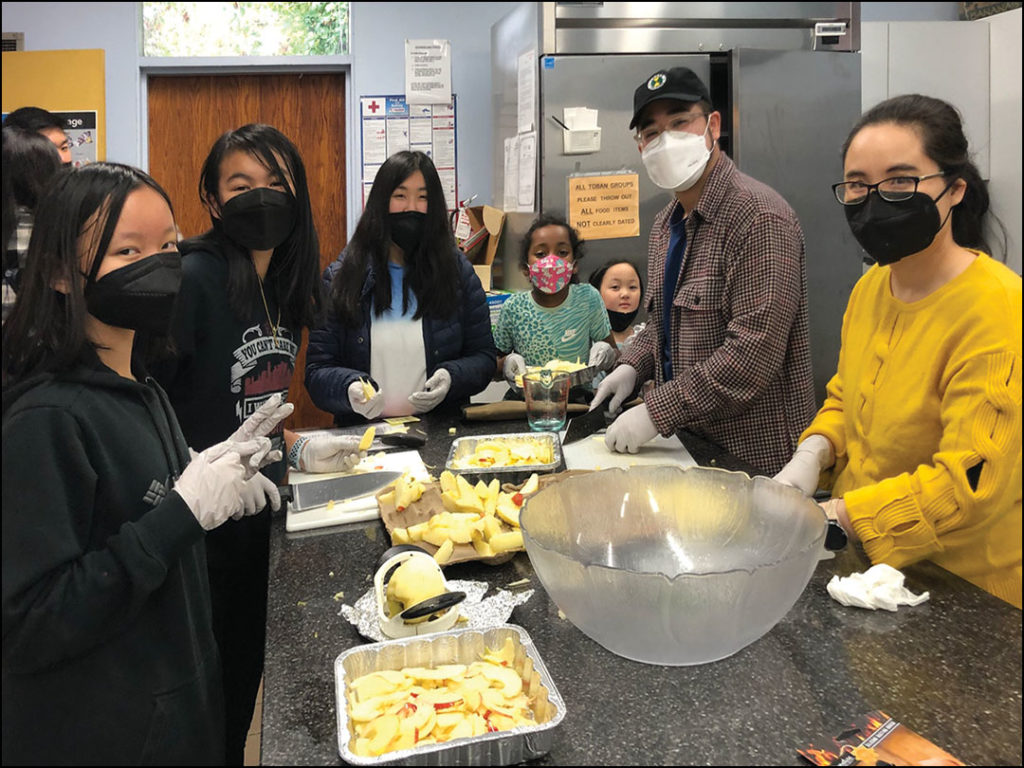 Holiday Card Signing
• Now-Dec. 3
Poinsettia Orders Open (Read more)
• Now-Dec. 17
Giving Tree Begins (Read more)
• Sunday, now-26
Greening of Blaine 2023
• Tuesday, Nov. 28 and Saturday, Dec. 2
Gender and Faith Workshop
• Wednesday, Nov. 29, 7pm
Christmas Eve Worship Services
• Sunday, Dec. 24, 10am
• Sunday, Dec. 24, 5pm
See the November Calendar or contact the Church Office for more details.
---
Our Story Continues!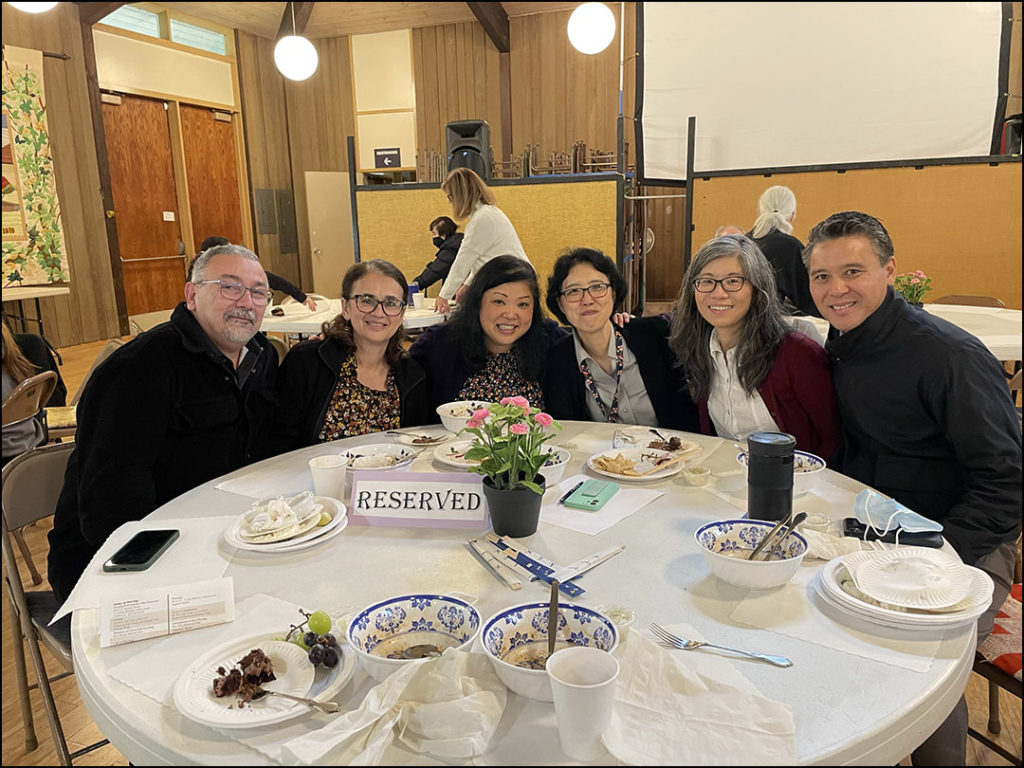 Gratitude & Stewardship: Together for Joy!
Rev. Karen offers up her Senior Pastor News! Read more about how Blaine will work "Together for Joy" over the next few weeks! How will you help support this vision for Blaine? Read more.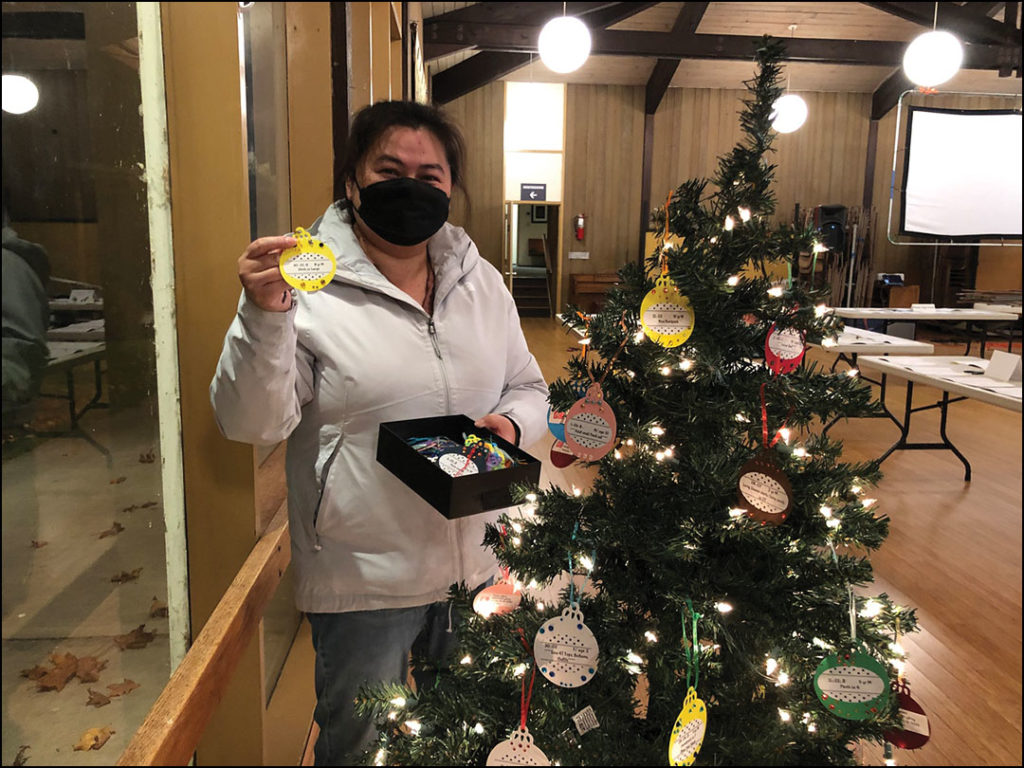 Thanksgiving and Giving Tree Ministries 2023
Terri Adolfo and the Rev. Mia MiKyung Park have some important info regarding service opportunities that support Kimball Elementary. If you're interested in helping with prep for Apple Crisp and the Giving Tree, read more.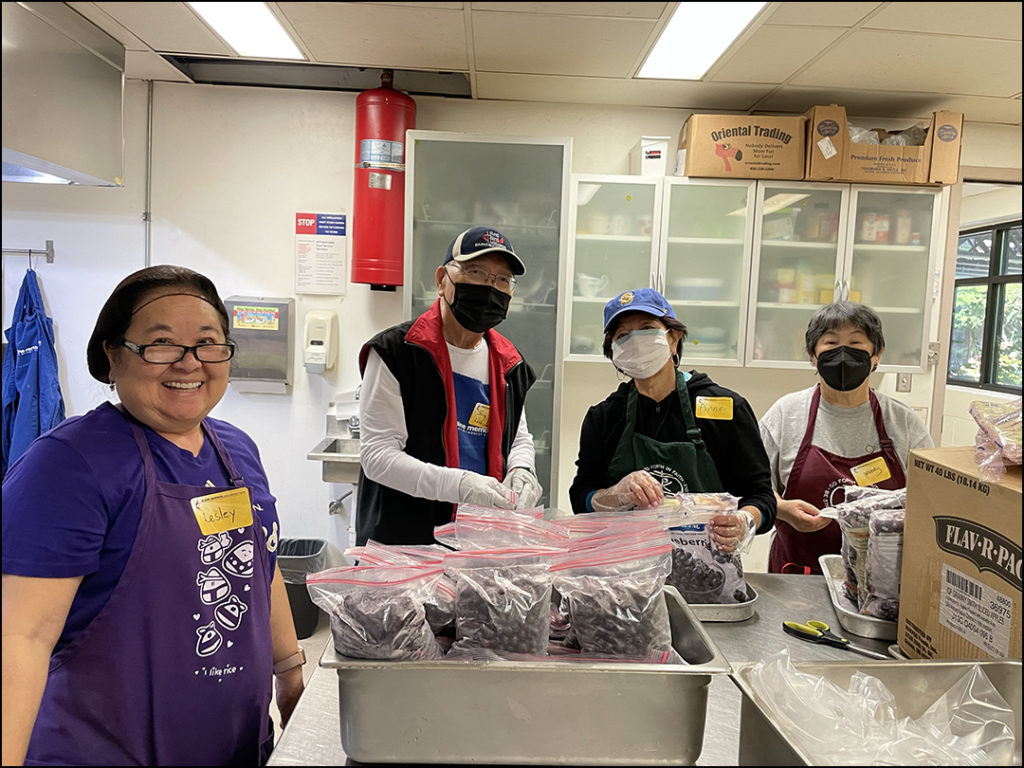 Gratitude for our Blaine's Benefit Bazaar!
Lesley Okura helped spearhead this year's Benefit Bazaar to help support Maui! Special thanks to everyone who helped this year's event be a success! Read more.
Gratitude is an Attitude
The Rev. Mia MiKyung Park presents a message on stewardship. We are stewards of all our blessings, including our responsibilities. What can we teach our children and youth the value of stewardship? Read more.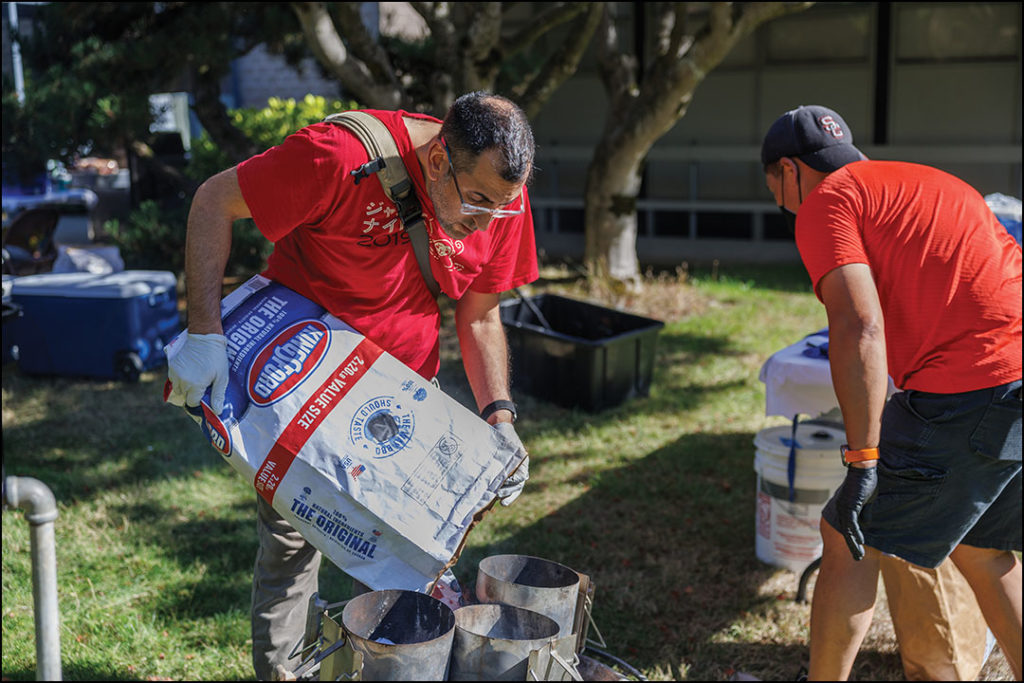 The Hands and Feet of Blaine
Now that Blaine has experienced the presence of God through this year's Bazaar, how can we be better stewards of what He has given all of us? Anne Arakaki-Lock presents this month's Spiritual Formation Center column. Read more.
---
November 2023 Calendar
Click on calendar to view the PDF.
---
About Blaine Memorial UMC
Blaine Memorial United Methodist Church is a vibrant and growing faith community located in the multicultural Beacon Hill neighborhood of Seattle. All are welcome in our multi-ethnic, multigenerational faith community.
Our calling and mission is the Great Commandment: to Love God and Love our Neighbors. We practice these spiritual disciplines by living into our church creed:
Go forth in faith
Be Strong in Hope
Serve with Love
Come and learn more about us through our mission!
All are welcome here!
Our core belief is that each person is a beloved child of God — whose giftedness we value and whose presence and participation are a blessing to our community, and to the Kin-dom of God in the world. Blaine Memorial UMC celebrates God's gift of diversity and values the wholeness made possible in community equally shared and shepherded by all. We welcome and affirm people of every gender identity, gender expression, and sexual orientation, who are also of every age, race, ethnicity, physical and mental ability, level of education, and family structure, and of every economic, immigration, marital, and social status, and so much more.
We acknowledge that we live in a world of profound social, economic, and political inequities. As followers of Jesus, we commit ourselves to the pursuit of justice and pledge to stand in solidarity with all who are marginalized and oppressed.
© 2023 Blaine Memorial United Methodist Church