---
"Every person must bring a gift in proportion to God's blessings upon you." (Deut. 16: 17)
1. ONLINE: Use your Realm sign-in, onrealm.org.
2. MOBILE: Search "Realm Connect" in your app store. Download the free app. Use your Realm sign-in and click GIVING. (For a Realm sign-in, contact the Church Office: blaineoffice@yahoo.com)
3. TEXT: Text BLAINE to 73256. Click the link you receive and follow the prompts.
4. MAIL: Mail a check to: Blaine Memorial UMC at 3001 24th Ave S. Seattle, WA 98144.

Sunday Bulletin with this week's announcements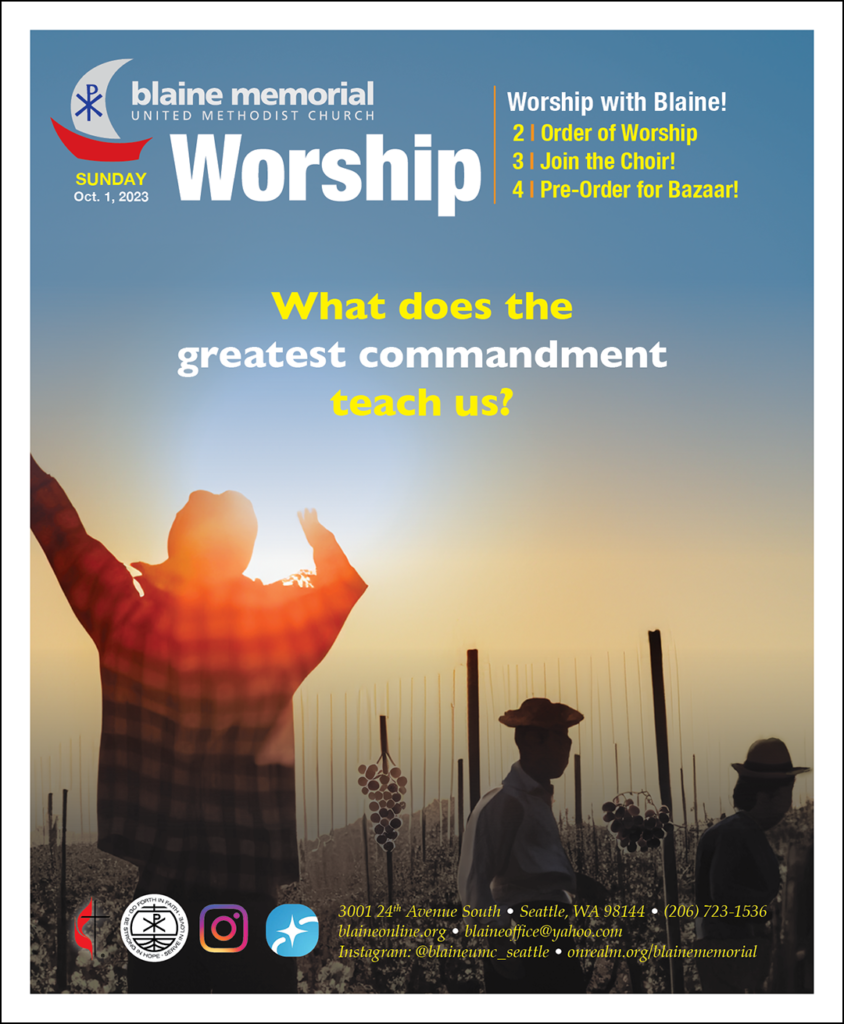 Click or tap the bulletin to view.
---
Our Story Continues!
Senior Pastor News: New Beginnings
The Rev. Karen Yokota Love updates the congregation on the reappointment of BMUMC Clergy, the reopening of Kimball Elementary, Bazaar 2023 news, and more. Read here to view Senior Pastor News!
Kubota garden walk & RM drop-in usher fall season of innovation!
Lynne Onishi provides a brief on what's new with the Innovation Hub! Read more, here.
BMUMC Scholarship Benefactors and Recipients for 2023
Check out this year's recipients of Blaine UMC Scholarships! Read more.
---
View the latest issue of the Beacon!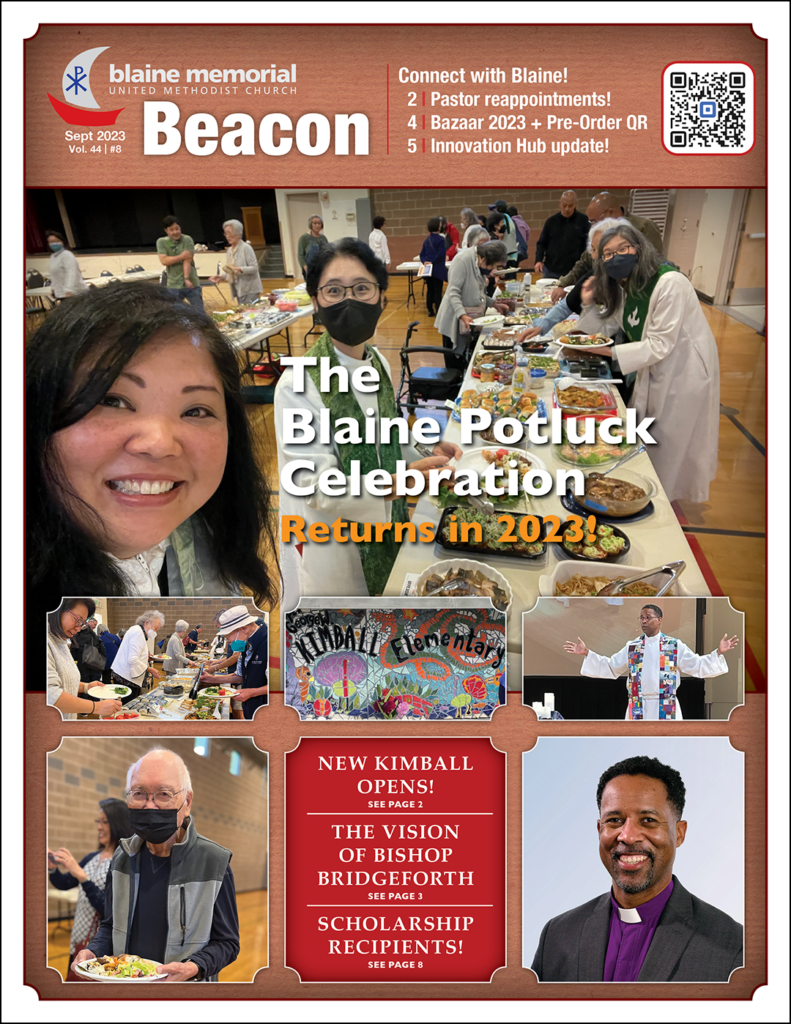 Click the image above to view the PDF version of our latest issue of the Beacon!
---
Sunday Worship Service begins at 10 a.m., both in-person and streaming online. Get directions or call us at 206-723-1536. Blaine Memorial United Methodist Church welcomes you!
---
October Calendar
Coming Soon!
This website is currently under construction – so expect some new features along with the same great resources to help you stay connected with Blaine! Soon, you'll have access to:
Updated ministry pages!
More video content!
Bookmark our page to stay connected!
---
About Us
Blaine Memorial United Methodist Church is a vibrant and growing faith community located in the multicultural Beacon Hill neighborhood of Seattle. All are welcome in our multi-ethnic, multigenerational faith community.
Our calling and mission is the Great Commandment: to Love God and Love our Neighbors. We practice these spiritual disciplines by living into our church creed:
Go forth in faith
Be Strong in Hope
Serve with Love
Come and learn more about us through our mission!
All are welcome here!
Our core belief is that each person is a beloved child of God – whose giftedness we value and whose presence and participation are a blessing to our community, and to the Kin-dom of God in the world.
Blaine Memorial United Methodist Church affirms our core value of Radical Hospitality, and as a community, we are an inclusive Church that welcomes and extends every part of its ministry to all persons regardless of race, ethnicity, income, age, generation, political affiliation, theological stance, sexual orientation or gender identity.
© 2023 Blaine Memorial United Methodist Church