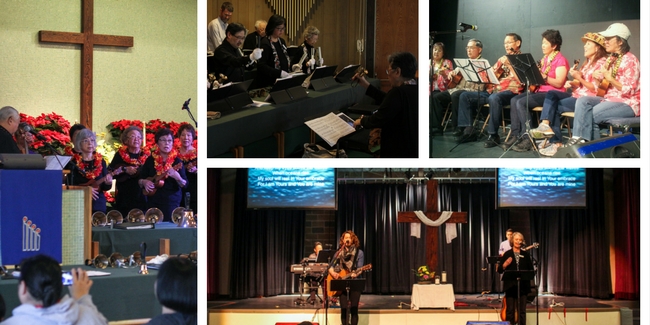 Music plays a central role in all our worship services at Blaine Memorial. The songs are prayers, whether in the forms of hymns, bell choir compositions, or contemporary praise. We are always looking for new members to join us in worship through one of our diverse music ministries; please don't hesitate to contact us if you have any interest in taking part.
CHOIR
The Blaine Choir is a group of people who love to sing to God. They rehearse Wednesday nights and Sunday mornings, and sing in many Blaine Memorial Sanctuary service. Their goals are to develop spiritually and musically through singing and through scripture. All are welcome regardless of singing experience. If interested in joining our choir or if you have any questions, please contact Eugene Onishi (eaonishi@hotmail.com).
HANDBELLS
The Blaine Handbell Choir is a fun and enjoyable way to bring music into your life throughout the year and to worship on Sundays. The choir does not play at every service but often makes appearances around the holidays and special times of the year. As long as you can count, you can play the bells! Rehearsals Tuesday evenings @ 7pm. Contact Sumi Yoshioka (sumiy@hotmail.com).
SUMMIT PRAISE BAND
The House Band for Blaine services loves playing contemporary Christian praise songs that range from classic to current; from reflective to raucous. Their mission is to make music that touches souls, lift spirits, and engages all in the prayer of singing. They are always looking for new musicians to join the fun!
UKULELE AKA B.U.G.S. (Blaine Ukulele Group of Seattle)

B.U.G.S. started in August 2011 with just two members. Now the group is 23 members strong and is one of the four popular music ministries at Blaine. The group is led by Dick Nagaoka, a long-time Blaine member and Ukulele leader and meets every Thursday afternoon and most Sundays for rehearsal, fellowship and food! The group is made up of men and women, mostly retired, who like to play the classics and traditional Hawaiian songs. B.U.G.S. plays at special worship services and events at Blaine as well as other venues in the Seattle area. Sometimes they are even joined by Hula dancers! If interested in booking them for a local performance, please contact Wendee Ong at wendeeo@msn.com or 206-725-4014.