Signs of autumn signal celebrations
By Rev. Karen Yokota Love, additional photos by Jesse N. Love and Kai Yamamoto
The days are getting shorter and it's getting dark earlier. Red leaves are piling up and for me, it is a reminder that Autumn has many signs and signals. There is a shift of the changing of the seasons. The year is wrapping up and I wonder where the time went – how are we in October already? As I watch the leaves fall, it urges me to let go of the busyness and the burdens that I carry. The urge is affirmed, especially now that the Bazaar is over.
Thank you to everyone who helped make this year's Blaine Benefit Bazaar a huge success! We had a whole lot of fun, didn't we? I appreciate you making the effort to come to our Benefit Bazaar which helped raise funds for Maui Relief and Recovery through United Methodist Committee on Relief (UMCOR). Because of you and your unwavering commitment to our faith community, we had an amazing turnout. The donations continue to come in. Your attendance and active support played an important role in our Bazaar's success — thank you and thank you, evermore. Your generosity and support are encouraging reminders of why Blaine Memorial resurrected the Bazaar in the first place … to help our Lahaina, Maui siblings. Through your support to UMCOR, you are providing food, water, hygiene items and tools to help survivors recover their belongings in the town of Lahaina (and in other neighborhoods) on Maui. Thank you for your prayers and for your support for the people of Maui in the aftermath of the wildfires.
Last month, I gathered with members of the National Japanese American United Methodist Caucus (NJAUMC). We met at the Mercy Center in Burlingame, CA. Clergy from our sister churches from Wesley UMC (San Jose), Faith UMC (Torrance, CA), UJCC (Fresno, CA), and many other churches, came together for the first time in person since the 2019 NJAUMC Clergy and Laity Convocation. Our goal was to see each other, discuss opportunities and resources available to support one another in ministry, dialogue about the changing landscape in our churches, and tend to our needs for care in a post-pandemic world. We discussed the joys and struggles of the historical Japanese American UM churches, lifted up those who have retired and have been ordained, and remembered our siblings who have gone before us. We received updates from Camping Ministries, Japanese Language ministries, and the state of the greater church across the country. More importantly, we came together in Word and in prayer.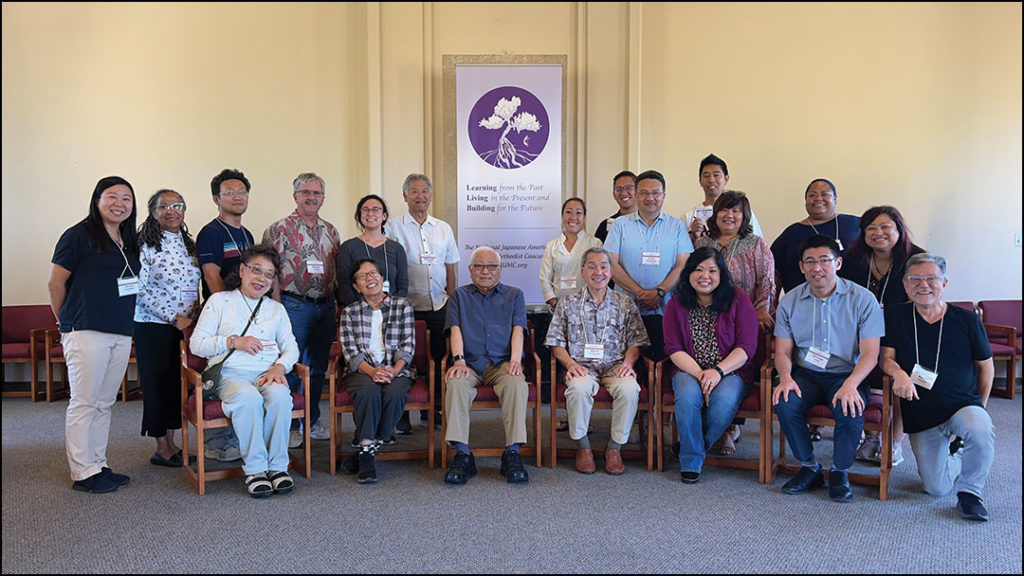 Retired Cal-Pac West DS Rev. Mark Nakagawa provided a compelling sermon about our saints who have passed away during the pandemic.
I provided a message based on Isaiah 43 about something new, filled with life, springing forth in the middle of a wasteland of the desert. I asked,
"What does new life in our historical Japanese American churches look like and what contributes to that movement as we look to the future?"
Aldersgate UMC (Palo Alto, CA) pastor, Rev. Dr. Sungrae Kim, provided Holy Communion in both English and Korean on our last day together.
Life seems as though we are walking through a dry desert. Earlier this month, the world awoke to news of a deadly attack on Israel by a Palestinian militant group, Hamas. Escalating violence has killed or injured thousands and an unknown number have been abducted — reportedly including the elderly, women, and children. I ask for prayers for those who have lost family members and livelihoods, the injured, for those who perpetuate violence and for World Leaders that they may work for peace, the churches, and all religious leaders and for those who work for peace in the region. The situation is complicated, and it's important to recognize the fear and sense of injustice that is felt, but it's essential to call on both sides not to resort to further violence and to engage in negotiation to establish a peaceful solution for all who live in the Holy Land.
Autumn signals that the time has arrived for this year's Reconciling Ministries Vote. For the past few years, Innovation Hub Convener Lynne Onishi and the Reconciling Ministries Task Force led our faith community in thought-provoking conversations, documentaries, small group discussions, online Bible Study classes, and provided safe spaces to discuss what it means for Blaine Memorial UMC to become a Reconciling Ministries Church. The time has arrived to cast your vote! Here is the statement that our church will be voting on after worship on Sunday, November 5, 2023:
"We celebrate God's gift of diversity and value the wholeness made possible in community equally shared and shepherded by all. We welcome and affirm people of every gender identity, gender expression, and sexual orientation, who are also of every age, race, ethnicity, physical and mental ability, level of education, and family structure, and of every economic, immigration, marital, and social status, and so much more. We acknowledge that we live in a world of profound social, economic, and political inequities. As followers of Jesus, we commit ourselves to the pursuit of justice and pledge to stand in solidarity with all who are marginalized and oppressed."
If you are an active church member or active participant at Blaine Memorial UMC, I encourage you to register to vote. You may vote by registering online by scanning the QR code on page 6.
Autumn signals great celebrations, including this year's Harvest Festival and Trunk-or-Treat on Saturday, October 28 from 11:00AM-2:30PM. There will be games and activities for all! We encourage you to dress in family-friendly costumes — please no masks allowed. Costumes may not contain sharp objects, pointed objects or materials that may accidentally strike another. At 2:00PM, the children will gather and participate in the Trunk-or-Treat in the parking lot. Invite your family and friends!
Autumn signals a time to remember our ancestors by celebrating All Saints Sunday on November 5 during worship. On All Saints Day, United Methodists publicly remember and honor our loved ones who have passed away. You're invited to bring photos of your saints which we will place on the altar. We will say the names of Blaine Memorial members who passed away from November 1, 2022 to October 31, 2023 and we will ring a bell to remember them.
Autumn signals the beginning of Blaine Memorial's 2024 Stewardship Campaign, Together for Joy, based on Psalm 98.
We have so much to celebrate and to be joyful about. Spread your joy, love others, and be the hope!
---
The Beacon is Now Available!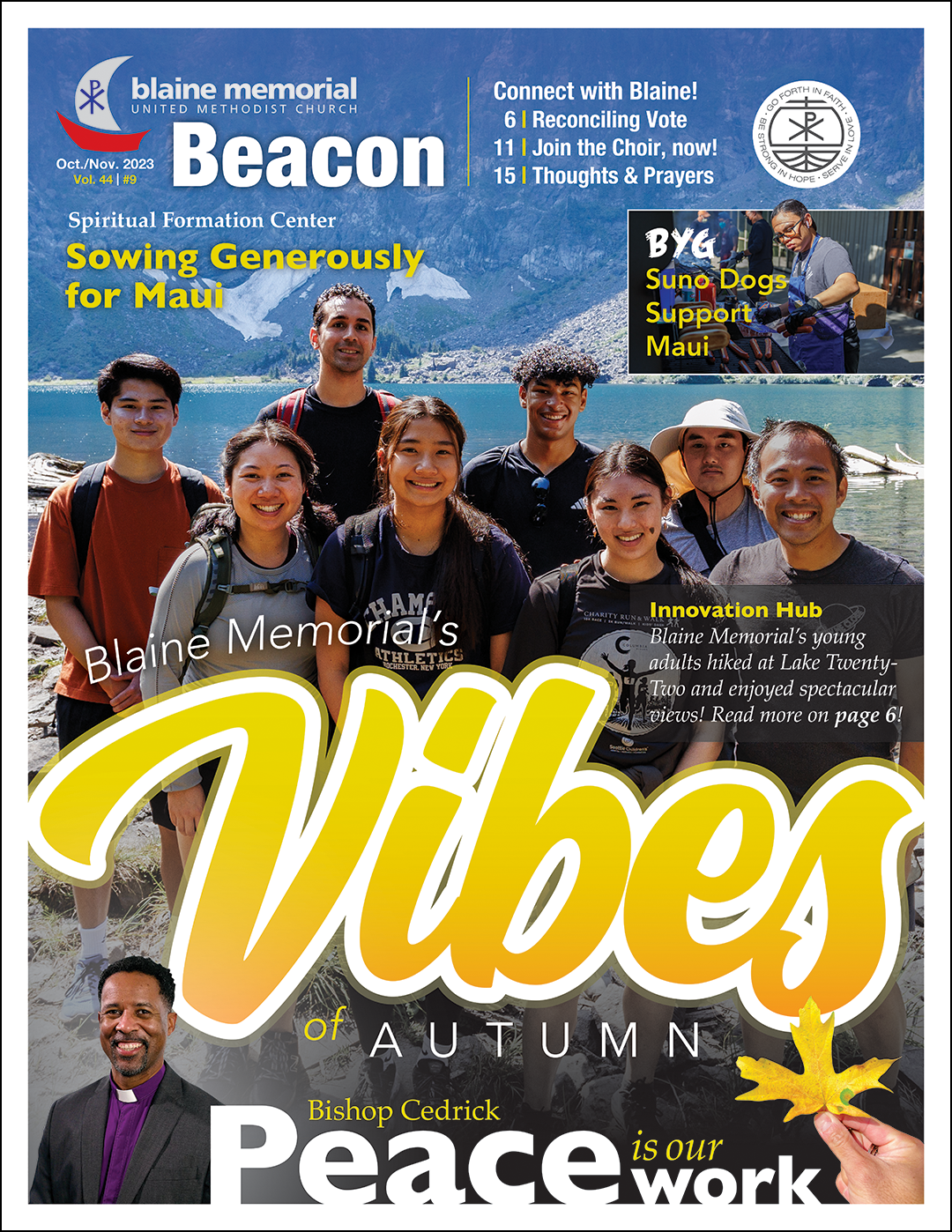 Read the latest issue of The Beacon newsletter, here!
---
October/November Calendar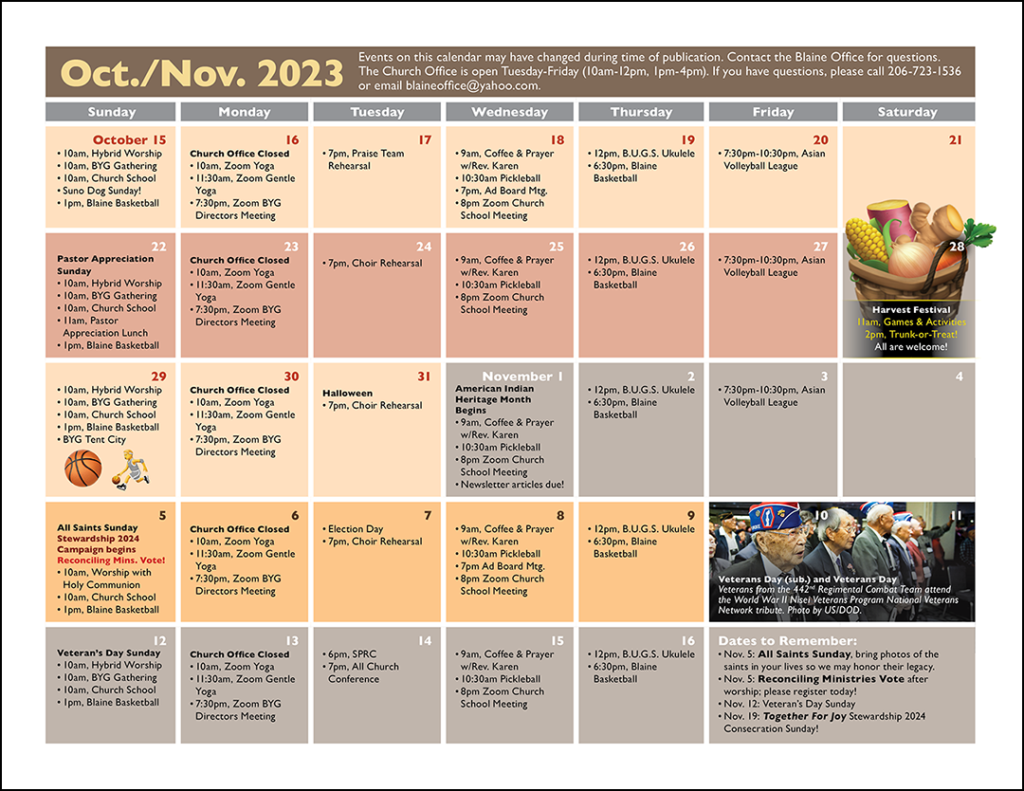 Click on calendar to view the PDF.
Learn More