Gratitude is an Attitude
By Rev. Mia MiKyung Park
November ushers in a season of richness and abundance that naturally generates gratitude. Before I wrote my November newsletter article, I decided to scan through all the Beacon newsletters of 2023. As I flipped through the pages, I was reminded of the many wonderful ministries that unfolded over this year. Thank you all for your heartfelt ministries! On a personal note, it has been an eventful and meaningful year as well. My heart rejoices at the visits of my in-laws and my family. It seems that I still smile when I wake up from a sweet dream. My Ordination Service in 2023 was a highlight, marking a new beginning that fills my heart with gratitude.
Gratitude is more than a feeling; it's an attitude that can transform our lives and our community. Gratitude is a confession that God's grace reaches out without any limitations. It is a belief in God's sovereignty and an acknowledgment that even when things don't go as we desire, God is with us and carries us through. It's a contagious force that revives our souls.
As we gear up for a month of Stewardship, I reflect on a conversation I had with a good friend who is a Christian and raised four wonderful children who are now grown. My friend is also a retired teacher, making it easy for me to discuss family matters with her. During our conversation, I expressed my concerns for my daughters, and she responded, "Mia, your children are not just your children; they are God's children entrusted to you and John. God loves them more than you do, and God knows them better than you do. Trust God to lead their lives and believe in your daughters; they will grow up to become great adults." This was an epiphanic moment for me, realizing that I am not only a steward of my time, treasure and talents but also a steward of all the relationships and responsibilities I have with people.
As I reflect on my Christian life as a steward, I pray and hope to encourage not only adults but also our youth and children to become more faithful stewards. I have come up with two thoughts on this. First, acknowledging the resource. When we understand that something is not truly ours, our attitude changes. We sing, "Praise God from whom all blessings flow … Praise God, the source of all our gifts" every Sunday. Singing the doxology is a humbling reminder that we are entrusted with an abundance of blessings that we can't even count. Second, it's better to practice the life of a steward from a young age. As a grown-up, it's challenging to instill one practice as a habit, and we need to teach children and youth the value of being stewards from a young age. We are stewards of all our blessings, including our responsibilities.
Our Church School's memorization verse for November is from the Apostle Paul: 1 Thessalonians 5:16-18: "Rejoice always, pray without ceasing, give thanks in all circumstances, for this is the will of God in Christ Jesus for you." This verse serves as a powerful reminder that gratitude is not limited to times of abundance and joy; we are encouraged to give thanks in all circumstances.
As we step into November, let us carry this attitude of gratitude with us every day. Let us remember to rejoice always and to give thanks, not just when things are going well, but in all circumstances. It is in cultivating this spirit of gratitude that we come to understand the richness of our lives and the boundless blessings that surround us. Let us continue to build a community of faith, hope, and love where gratitude overflows in each of our hearts. May your November be blessed and abundant, filled with moments that inspire thankfulness and joy.
The Rev. Mia MiKyung Park serves as the Associate Pastor of Blaine Memorial United Methodist Church.
---
Lectionary: Season After Pentecost
November 1, 2023
All Saints Day (Sometimes on the first Sunday in November)
Revelation 7:9-17 Psalm 34:1-10, 22 1 John 3:1-3 Matthew 5:1-12
November 5, 2023
Twenty-Third Sunday after Pentecost
Joshua 3:7-17 Psalm 107:1-7, 33-37 Micah 3:5-12 Psalm 43 1 Thessalonians 2:9-13 Matthew 23:1-12
November 12, 2023 
Twenty-Fourth Sunday after Pentecost (If All Saints not observed on this day)
Joshua 24:1-3a, 14-25 Psalm 78:1-7 Wisdom of Solomon 6:12-16 or Amos 5:18-24 Wisdom of Solomon 6:17-20 or Psalm 70 1 Thessalonians 4:13-18 Matthew 25:1-13
November 19, 2023
Twenty-Fifth Sunday after Pentecost
Judges 4:1-7 Psalm 123 Zephaniah 1:7, 12-18 Psalm 90:1-8, (9-11), 12 1 Thessalonians 5:1-11 Matthew 25:14-30
November 23, 2023
Thanksgiving Day
Deuteronomy 8:7-18 Psalm 65 2 Corinthians 9:6-15 Luke 17:11-19
November 26, 2023
Reign of Christ Twenty-Sixth Sunday after Pentecost
Ezekiel 34:11-16, 20-24 Psalm 100 Ezekiel 34:11-16, 20-24 Psalm 95:1-7a Ephesians 1:15-23 Matthew 25:31-46
---
Visit the Poinsettia page!
Orders are now open for Poinsettias on the Altar. Read more.
---
The Beacon is Now Available!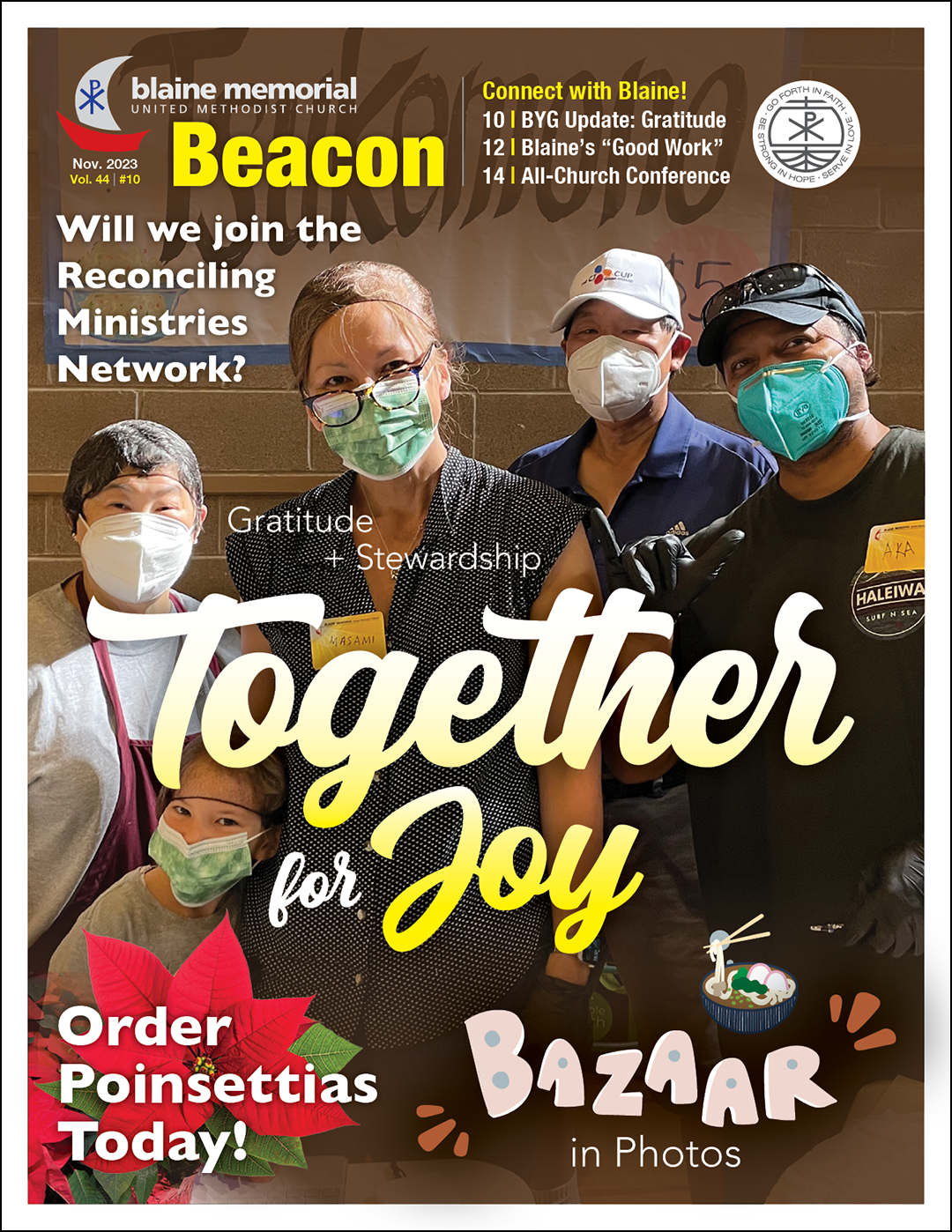 Read the latest issue of The Beacon newsletter, here!
---
November 2023 Calendar
Click on calendar to view the PDF.