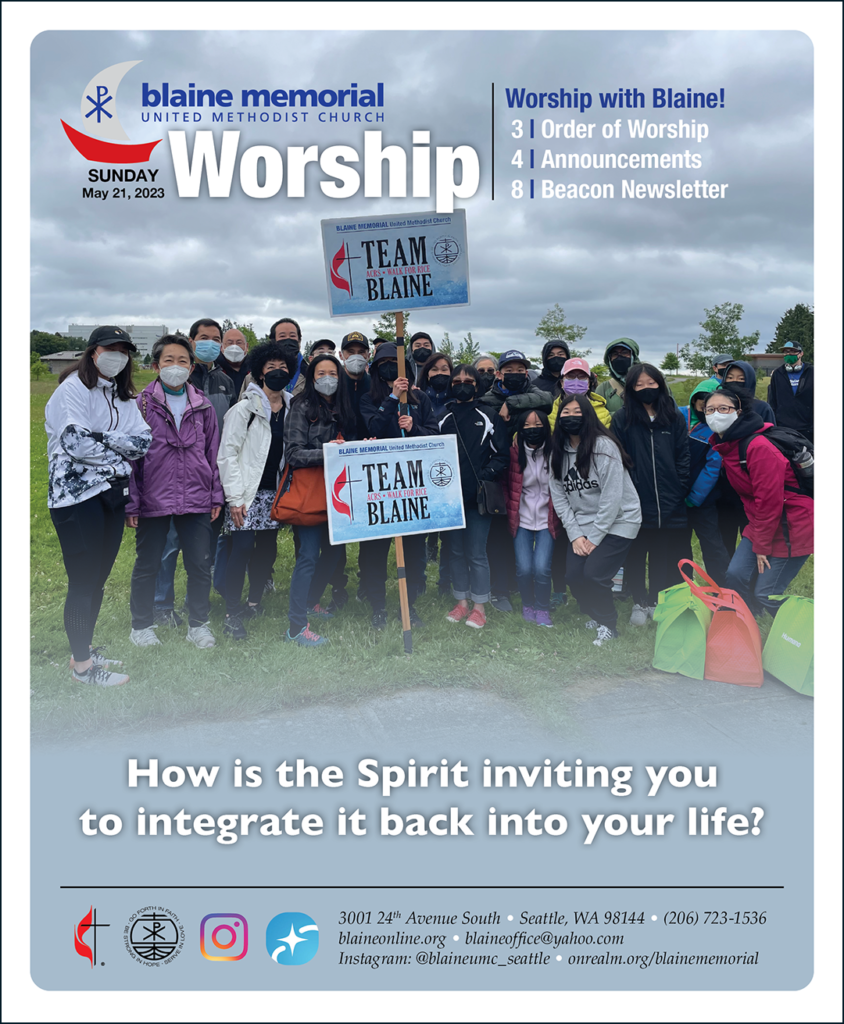 Welcome!
---
Order of Worship
Prelude
Spirit, Spirit of Gentleness
By James K. Manley
Kathy Onishi
Welcome of Grace and Greeting
Rev. Karen Yokota Love
Call to Worship
Rev. Mia MiKyung Park
Opening Prayer
Rev. Mia MiKyung Park
*Opening Hymn
Sois la Semilla (You are the Seed)
(UMH #583)
Eugene and Kathy Onishi
First Scripture Reading
Acts 1:6-14 (CEB, JLB)
Terri Pittman & Yuki Sofronas
Children's Message
Rev. Mia MiKyung Park
Special Music
O Jesus, I Have Promised
By J.E. Bode, A.H. Mann
Blaine Memorial Choir
Mission Moment: ACRS/Walk For Rice
Michael Byun, Executive Director;
Audrey Hwang and Justine
Second Scripture Reading
John 17:1-11 (NRSVUE, JLB)
Terri Pittman & Yuki Sofronas
Sermon
The Struggle for Love
Rev. Karen Yokota Love
Hymn of Response
Blest Be The Tie That Binds
Eugene and Kathy Onishi (UMH #557)
Reconciling Ministries Moment #3
Arlene Naganawa
Introduction to the Offering
Rev. Mia MiKyung Park
Doxology
(UMH #94) Kathy Onishi
Prayer of Dedication
Rev. Mia MiKyung Park
Announcements
Rev. Karen Yokota Love
Closing Hymn
They'll Know We Are Christians By Our Love
(TFWS #2223)
Eugene and Kathy Onishi
Benediction
Rev. Karen Yokota Love
Postlude
Across the Lands
By Keith Getty and Stuart Townend
Kathy Onishi
Straw Poll
Arlene Naganawa
Not at in-person worship? Send your vote by May 21, 2023 at 2pm to blaineoffice@yahoo.com. This method is not anonymous.
Passing of the Peace
Rev. Karen Yokota Love
Zoom Breakout Room
Rev. Dr. Jeney Park-Hearn
---
Sermon Reflection Questions
What is a stream of Christian spirituality that you feel at odds with?
How is the Spirit inviting you to integrate some of their practices into your life?
What is a fragment of your story that you are ashamed of?
How is the Spirit inviting you to integrate it back into your life?
---
Upcoming Lectionary Scriptures
Monday, May 22, 2023
Psalm 99; Leviticus 9:1-11, 22-24; 1 Peter 4:1-6
Tuesday, May 23, 2023
Psalm 99; Numbers 16:41-50; 1 Peter 4:7-11
Wednesday, May 24, 2023
Psalm 99; 1 Kings 8:54-65; John 3:31-36
Thursday, May 25, 2023
Psalm 33:12-22; Exodus 19:1-9a; Acts 2:1-11
Friday, May 26, 2023
Psalm 33:12-22; Exodus 19:16-25; Romans 8:14-17
Saturday, May 27, 2023
Psalm 33:12-22; Exodus 20:1-21; Matthew 5:1-12
---
Announcements
Reconciling Ministries Straw Poll
Today after worship
The Reconciling Ministries Team will conduct a straw poll on Sunday, May 21. This poll is not a final vote on affiliation with Reconciling Ministries. The team is simply conducting a poll of our congregation to better understand your thoughts, feelings, and concerns about the reconciling statement. The vote will take place after the service is finished, and your participation is required.
VBS Volunteers Meetings
May 21 & June 4
We will be holding volunteer meetings on the following Sundays: May 21st and June 4th, after the service, from 11:30 am to 12:30 pm in the Webb Room. If you are planning to volunteer at VBS this year, please make sure to attend these meetings.
Wednesday Coffee & Prayer
May 24 • 9am on Zoom
Please join Rev. Karen for a time of meditation and prayer on Wednesday, May 24 at 9am. The Wednesday Prayer group continues to meet each week. Our time together consists of a check-in question centering around United Methodist Founder John Wesley's famous question, "How is it with your soul?"
Please join us! Brew a fresh cup of coffee or steep some tea. This is a great opportunity to pause in the middle of the week to check in with others. The Zoom link will be sent out prior to gathering on Tuesday.
---
33rd Annual ACRS Walk for Rice
June 17 • 9am
This year ACRS will hold its in-person Walk for Rice at 9:00 am on Saturday, June 17, 2023 at Seward Park! Team Blaine's fundraising goal is $7,000. Help ACRS feed AAPI community members who are experiencing food insecurity by joining or donating to Team Blaine!
Go to: https://give.acrs.org/team/498138 to donate online! Or mail your donation to the Blaine office (checks made out to "Walk for Rice", memo: "Team Blaine") . Thanks for your support! Read more.
Blaine Cookbook needs your recipes!
Due May 31
Blaine Memorial United Methodist Church will release a 120th Anniversary Edition of "Let's Dine!", the latest in a series of cookbooks produced by Blaine Memorial over the past 70 years. This cookbook will commemorate the 120th Anniversary of Blaine Memorial, with a scheduled release of January 2024. We are seeking submissions for the 2024 cookbook and are calling on you to contribute! Read more.
Ongoing Donations for Afghan and Ukrainian Refugees
Items being collected: At this time, we have an abundance of some items and so we are NOT in need of clothing or children's toys. Especially needed items are women's products, toothpaste, personal care items, rice cookers, blenders, mixing bowls, microwave ovens, toasters, mixers, irons, dish sets, towels, and blankets.
Blaine Memorial UMC Collection Hours: Collection items can be dropped off to the Blaine Memorial Social Hall from Tuesday – Thursday between 10:00AM-4:00PM. Please call the Church Office at (206) 723-1536 prior to dropping off your items. South King County Response Center Collection & Volunteer Hours: The Donation Center is open on Tuesdays, Thursdays & Saturdays from 10am-2pm, same time as the Tukwila Pantry at 3118 S. 140th St. Seattle.
Please text Kim Parks at (206) 683-1707 when you would like to help. Please wear a mask and bring a marking pen and measuring tape if possible. Please contact Donna Sekijima at: donnasek@outlook.com and/or Anne Arakaki-Lock at: aarakakilock@gmail.com.
This summer's Camping Ministries and Vacation Bible School schedules are out!
Please save the dates for your children and youth! Summer Camps & VBS 2023!
June 25-30
Jr/High Camp (for incoming 6th-9th graders) Jr. High Camp registration is open now! Please register your youth by May 31!
July 10-14
Vacation Bible School 10am-3pm VBS registration is open now! Visit the VBS 2023 page and bookmark it for updates!
July 23-28
Asian Camp (for incoming 10th grade- 2 yrs. post-high school)
Ongoing Request for Chips and Savory Treats
Thank you all for generously donating sweet and savory treats for post-worship fellowship time. Currently, we need more chips and savory items: wrapped bags of chips (potato chips, Doritos, Cheetos etc.) would be appreciated. Drop off your donations to the Narthex, Church Office, or Social Hall either on Sunday or during Church Office Hours (Tuesday-Friday 10:00AM-4:00PM). Help serve refreshments on Sundays after worship by contacting Julie Lock at: jtlock00@gmail.com
The Beacon newsletter is ready for viewing!
Printed versions are available in the office, sanctuary, and social hall!
---
Check out what's happening at Blaine!