Support Walk for Rice Now!
By Justine, photos by Audrey Hwang
The 33rd annual ACRS Walk for Rice will be on June 17, 2023 at Seward Park!
Blaine Memorial UMC has a special connection to the Asian Counseling and Referral Service Walk for Rice. In 1990, Sam Mitsui, with Herb and Bertha Tsuchiya, wanted a way for everyone to help feed the community. Team Blaine continues to honor Mitsui's contribution through the Walk for Rice, commemorating 33 years of service.
This year's Walk for Rice will be in-person at Seward Park on Saturday, June 17, 2023! We need you!
The ACRS Food Bank remains one of the busiest food banks in King County, distributing more than 1 million pounds of food annually to 5,700 clients. More than half are children under the age of 18 or seniors over 65, and many people served by the ACRS Food Bank are low-income. Proceeds from the Walk for Rice allow ACRS to buy many of the culturally familiar foods that its Asian clients rely on: tofu, noodles, and produce like bok choy. Don't forget, rice!
Last year, Team Blaine raised over $8,300, which put us in third place! This year, ACRS hopes to raise $325,000 and Team Blaine's fundraising goal is $7,000. You can also support us by joining Blaine Memorial at Seward Park on June 17th at the Walk for Rice celebration!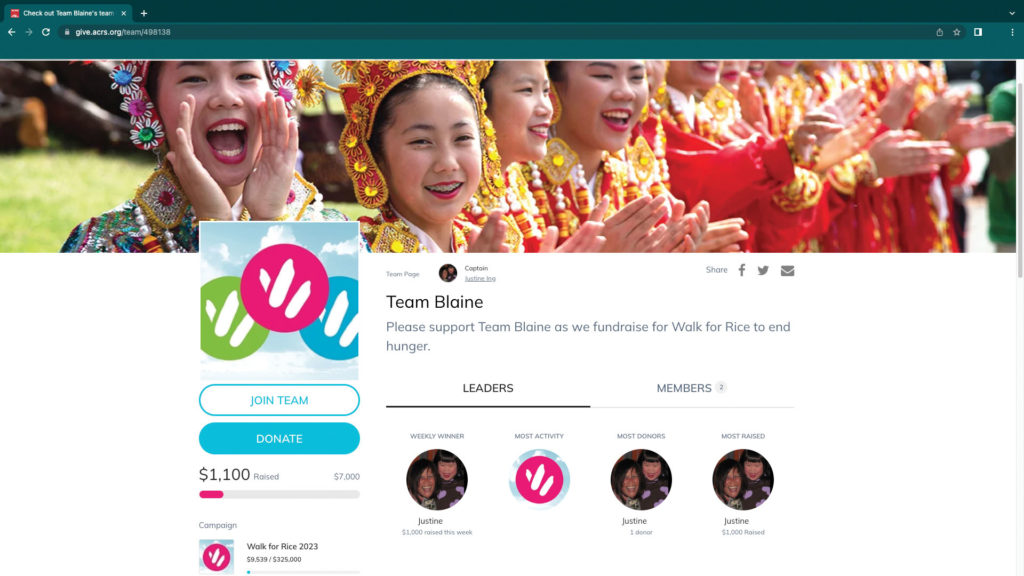 Go to our team page to donate online or join our team as a walker! You can also mail your donation (checks made out to "Walk for Rice", memo: "Team Blaine") to the Blaine office.
Thank you in advance for supporting ACRS Food Bank – every dollar counts!
Justine serves as Team Captain for the ACRS Walk for Rice, representing Blaine Memorial United Methodist Church.
---
Read our latest issue of the Beacon!
The June edition of the Beacon features stories from our church in celebration of Summer! Download the PDF!