Walk for Rice 25th Anniversary
Saturday, June 27th at Seward Park
Please join our Walk for Rice team! Sign up here: http://walkforrice.kintera.org/faf/search/searchTeamPart.asp?ievent=1135533&lis=1&kntae1135533=06E244DFA4BA4C6CB5DD65F232C114C3&team=6388855
Blaine Memorial was an early collaborator of Walk for Rice, an annual fundraiser for ACRS's Food Bank. Sam Mitsui, a member of our church, helped create the event. ACRS directly serves so many APIs in our local community around Blaine and it's an honor to help them out. The walk/run is a family-friendly event just around Seward Park on Saturday morning, June 27. However if you are unable to make the event and/or walk, you can still donate!
Help us get a large team to support ACRS and honor Sam for all the work he has done in creating Walk for Rice!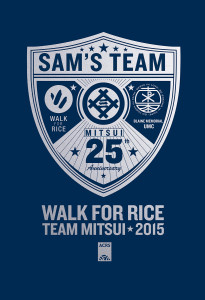 Blaine Walk For Rice T-Shirts!
Glenn Mitsui kindly indulged us in our request for a unique Blaine Memorial t-shirt honoring his dad and our community and we'd love for you to order one. You can wear it on the walk or just buy one to help support Walk for Rice. We'll also be gathering order this Sunday after worship also. Each shirt costs $10.
Here are the t-shirt sizes:
Adult (unisex): Small – XXL
Youth (2-11years old): XS-Med
Kindly email revshalom.blaine (at) gmail.com with your t-shirt size and send (or bring) cash or check into the office payable to: Blaine Memorial UMC
Memo: WFR shirt
You can order one in person at church this Sunday, June 14, as well! Orders will be placed by June 19, so please don't put this off!
Learn More