Blaine Weekly eNews – April 26
1. Annual Craft and Food Fair and Silent Auction
Saturday, May 2nd, 10a-4p
Blaine Memorial UMC – Lee Center
Please join us for a fun filled day of shopping, food and fellowship! Invite your family, your neighbors, your co-workers. It is the weekend before Mother's day which is a great opportunity to find that special gift for that special someone! Attached is a flyer to email and Facebook to everyone!
In between shopping, you can sit down and enjoy the delicious food prepared by the youth and their parents. Kahlua Pork…Spam musubi…cabbage salad…somen salad…Hawaiian Chili…Suno Dogs…Italian Soda's. For dessert, pick from an array of homemade sweets.
This year's silent auction has some great items up for bid. Gift Baskets, Gift Cards, Sports tickets, Restaurants…be sure and get a bid number!
Proceeds will help support Blaine Youth Group for Summer Camps, Mission and Service opportunities!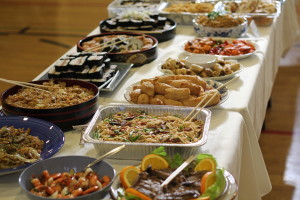 2. Joint Worship and Potluck Celebration
Sunday, May 3rd at 10am
Join us this Sunday for a joint worship at 10am followed by a potluck celebration honoring Barbara Nagaoka and Pearl Yamamoto for their service as Office Managers to the ministry of Blaine Memorial. Potluck starts at 11:30am. Please bring a dish to share!
Potluck Assignments:
If your last name begins with
A-M….main dish and a rice dish
N-Q….main dish and salad
R-Z….main dish and dessert
Hope to see you there!