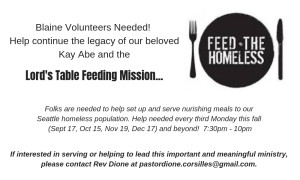 The Lord's Table is a mission outreach ministry that provides a hot, nourishing meal to our fellow neighbors around us that have fallen on hard times.  Blaine Memorial United Methodist Church is one of the active participating churches that help serve in this very important ministry where they continue to support the Kay Abe's ministry of feeding those who may be in need of a hot meal in downtown Seattle.
We at Blaine Memorial serve on the second and third Mondays of each month.
We feed on average about 80-100 people at each Lord's Table meal.  The people we serve are children of God, lost sheep, who most likely would not have a meal otherwise.  Everyone always serves with a cheerful heart.  With every person that is served we feel we are feeding Christ.  It's truly an honor to see God working through our church members serving our fellow neighbors.   We all feel that we, the servers, always get more blessing out of serving the meal than the people who actually  receive the meal.
In addition to serving the meal, we also hand out new cotton socks, clothing and toiletry items that have been donated by church members.  In the colder months of the year we have loving church members who have hand made stocking caps to give to our neighbors in need.  Additionally, we also have our Sleeping Bag Ministry at the Lords Table.  Throughout the colder months of the year (November through April) we give out brand new sleeping bags that are purchased through our Lords Table fund.   Each of these months, we will give out 60 to 80 sleeping bags to those who may need it.
We all know that all love comes from God.  The Lord's Table is a way we love our fellow neighbor.  We give, but we know that first God gave.  We are so very thankful for all the blessings God has provided  and it is with a heart of thankfulness that, through you, Lord Jesus, we give God's love back to our fellow neighbor.
For more information, please contact Lorne Ricord at lornetr@comcast.net.