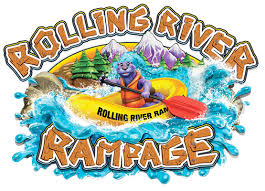 2018 VBS
MONDAY JULY 9TH  – FRIDAY JULY 13TH
KIDDIE VBS – SATURDAY JULY 14TH
REGISTRATION OPEN NOW!  CLICK HERE TO REGISTER ONLINE!
HARD COPY REGISTRATION FORMS ALSO AVAILABLE IN THE CHURCH OFFICE!
Blaine Memorial invites all children entering 1st Grade – 5th Grade to ROLLING RIVER RAMPAGE! Vacation Bible School! Get ready to experience the Ride of a Lifetime with God! Rolling River Rampage uses epic music, spectacular science, crafty crafts, exciting recreation, and fantastic Bible stories to help kids (and leaders) discover our strength in God!
The adventure begins Monday – Friday July 9th – 13th; 9am – 5pm. On Saturday morning July 14th, we will have a special Rolling River Rampage for preschool kids up to 5 years old and their parents, called KIDDIE VBS (free registration).
Look for monthly updates in the upcoming Blaine newsletters, worship bulletins and here on the website.  If you are interested in volunteering, we have many ways to serve in support of this wonderful outreach opportunity.
Have additional questions? Feel free to contact Susan Lee Yamamoto OR Pam Nakano at blainevbs@gmail.com.
We look forward to seeing you and your children this summer!
Save