June 23, Email Scams "Phishing"
June 5, 2020 Black Lives Matter Letter
May 24, 2020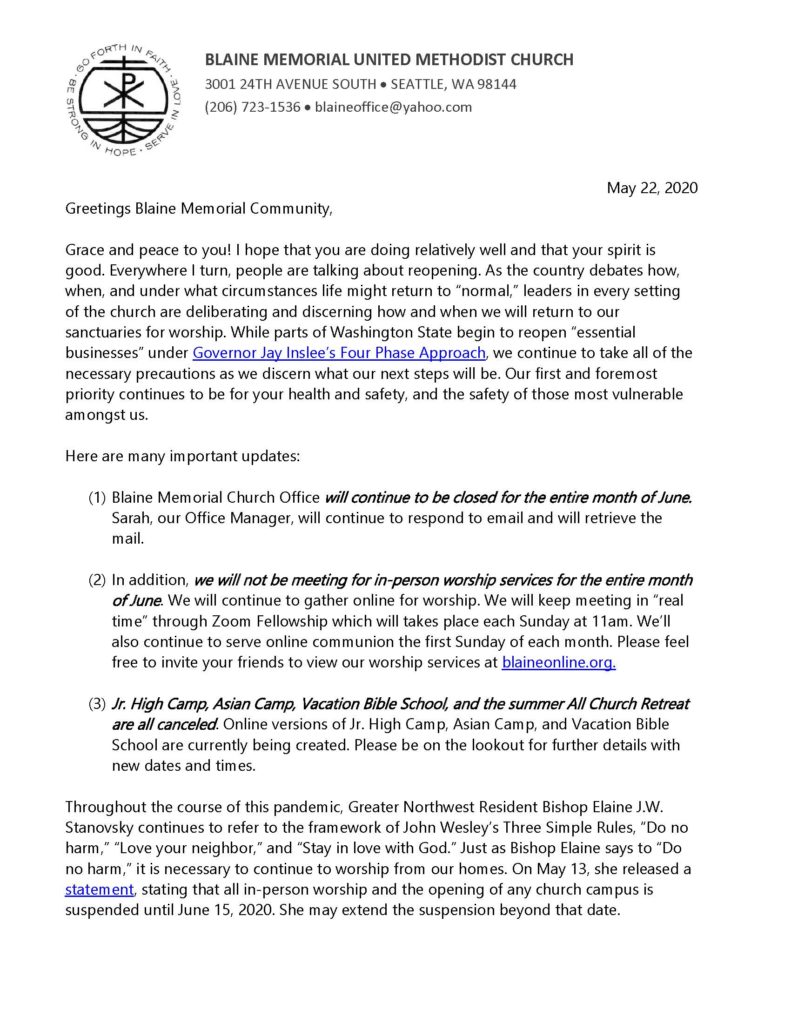 March 24, 2020
Greetings Blaine Community,
Grace and peace to you during this Lenten time – a time of definite uncertainty as we continue to wander in the wildness together. The amount of community and love that Blaine has for each another is amazing! We invite you to continue to pray for one another and to check-in on each other through your preferred lines of communication. Our Congregational Care Ministers (CCM) continue to do a fantastic job checking in on our most vulnerable. We encourage you to look for the silver lining during this time at home whether it's through baking, writing a hand-written letter, building a shed outside, or cleaning out that closet … know that this time at home is also sacred, and this too, shall pass.
Last night, Washington State Governor Jay Inslee issued a "Stay Home, Stay Healthy" order. With that in mind, here are a few directives that we'd like to communicate to you at this time:
(1) As stated in Sunday's online worship, the Blaine Memorial Church Office will be closed for an indefinite amount time. Sarah, our Office Manager, will continue to respond to email and will retrieve the mail. Please do not come to the church building including the Lee Activity Center, even if you may be experiencing "cabin fever" at home or feel that it is a safe place to come because the church building is large. Please do not use the gym (even if you are alone) or use the kitchen to do any baking and cooking. This is the time to listen to the directives from Governor Inslee to stay at home, as it will save lives. Together, we help flatten the curve of the spread of COVID-19.
(2) We will not be meeting for in-person worship services for the month of April 2020. This decision was carefully thought-out and is following the direction of our Washington State school systems which have refrained from meeting until April 24, 2020. We will assess at the end of April to determine if we are able to gather for in-person worship in May. Our first and foremost priority continues to be for your health and safety, and the safety of those most vulnerable amongst us.
(3) What does this mean for Holy Week and for Easter worship services?
We will worship together online. The Pastoral Staff continues to work with Eugene Onishi, Jesse Love, and the Worship Committee to come up with some creative and engaging ways where we are able to interact with one another. As each day is presented to us, we continue to dream up new and innovative ways in which we can embody God's presence and bring the message to you. Please continue to view our worship services at blaineonline.org.
Thank you for being community together, for your flexibility, compassion and understanding during this unprecedented time. We're all in this together and we can do this together!
Peace to you,
Rev. Karen Yokota Love and the Pastoral Team
The Blaine Memorial Leadership Team
______________________________________________________________________________
March 12, 2020
Coronavirus Update: Blaine Memorial Church Closure
Dear Beloved Community,
The Blaine Memorial UMC Leadership continues to follow closely the recommendations and expertise from public officials in King County and from Washington State Governor Jay Inslee, regarding COVID-19, the illness caused by a new coronavirus known as SARS-CoV-2. Yesterday marked a critical moment in the growing outbreak of COVID-19 in King County and throughout our country.
An additional update from Governor Jay Inslee's Proclamation prohibits large gatherings of more than 250 people. This is in addition to King County public health recommendations of canceling gatherings of 50 or more people. We are blessed to be a vibrant multigenerational church with many groups that come and go. We have a great concern for congregants and members of the community who are at risk (ages 60+, those with underlying conditions, pregnant, or weakened immune systems). Our primary goal continues to be to slow the spread of the virus in our community and, importantly, to reduce the number of potential deaths caused by COVID-19.
With this concern and caution for public health, all in-person worship services for the remainder of March – March 15, 22, 29 will be canceled.Just like this past Sunday, we will continue to provide an online service option. Please check back on our website at blaineoline.org where you can access the services.
All outside group activities including community groups, ukulele groups, yoga, basketball groups, large events, etc. are canceled until the end of March.
All Blaine-related small groups, ministry teams or other meetings from Blaine UMC (including governing boards such as SPRC and Ad Board; Sunday School; young adult, youth, and children's events; Boy and Girl Scouts, choir practices, etc.) that gather at the church will be canceled. Gatherings that take place off-site should be done with caution and at your discretion.
For calendar questions and concerns, please email Sarah Rankin (blaineoffice@yahoo.com).
At this time, these practices are effective immediately until March 31. We will keep you up-to-date as information changes and with any decisions regarding church activities. Please continue to check our website and Realm for receive up-to-date information.
Please refer to theKing County health department page for updates and questions about the virus and what to do if you feel ill.
Please keep our community, our health officials, healthcare providers, leaders, government officials, and those who are vulnerable, in your prayers and know that you and your family continue to be in ours.
In Christ,
Rev. Karen Yokota Love, Lead Pastor and the Pastoral Staff
Blaine Memorial Leadership Team
______________________________________________________________________________
March 6, 2020
Dear Beloved Blaine Community,
Greetings in the name of the Spirit. By now, my hope is that you have received a message either through Realm, Facebook, or by phone about:
Blaine's Sukiyaki fundraiser (originally scheduled for tomorrow, March 7, 2020) is POSTPONED.
We're also CANCELING ALL our worship services on Sunday, March 8, 2020.
Your health, the health of Blaine's church family, friends, neighbors and greater community is our first priority as we watch over one another in love. We continue to respond with faith to prevent the spread of COVID-19, also known as the coronavirus.
Bishop Elaine J.W. Stanovsky strongly recommended that we follow the King County Public Health recommendations to cancel large events (50 people or more), including worship, community events, and shared meals.
The primary goal is to slow down the spread of COVID-19, and in order to do that, we need to be mindful and not create opportunities for exposure and for the spread of the virus. We do this by limiting our contact with people in large groups and ultimately, this is a way to care for our community, neighborhood and the world.
SUKIYAKI DINNER TICKETS
Many of you have received Sukiyaki Dinner tickets and have already paid. Our hope is to reschedule our popular event in the near future, so we encourage you to hold onto your tickets. If you prefer a refund, please contact the Blaine Office at (206) 723-1536 or blaineoffice@yahoo.com.
MARCH 8, 2020 SUNDAY WORSHIP IS CANCELLED
We are working to provide an online message. Please check Realm, FB, and the Blaine Memorial Website on how to receive instructions on where to access the worship service. Printed copies of the sermon manuscript will be available in our church office and on our website. We will be evaluating future in-person worship services on a weekly basis, going forward.
Thank you in advance for your flexibility and understanding and for caring for our church community. Please continue to check our communication vehicles for
real-time updates.
Be the hope,
Rev. Karen Yokota Love, the Pastoral Team, and the Blaine Leadership Team